Cornerstone Barristers wins 'Outstanding Legal Website' prize at the Web Awards 2023
05 Sep 2023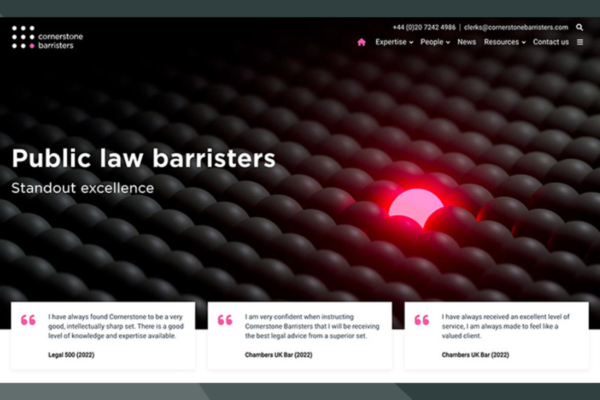 We are delighted to announce that Cornerstone Barristers has won the award for 'Outstanding Legal Website' at the 2023 Web Awards.
The annual competition, managed by the Web Marketing Association since 1997, is open to organisations involved in the process of developing websites and involves dozens of independent expert judges from around the world reviewing sites across 86 different industries.
Cornerstone Barristers relaunched its website in July 2022, following a Chambers-wide consultation, with the help of web developers Square Eye.
Tom Cosgrove KC, Joint Head of Cornerstone Barristers, said: "We are thrilled that our eye-catching new website has been recognised by the Web Awards. It is particularly pleasing given that the judging panel consists of professionals from globally known companies such as IBM, Adobe and CBS. Since our relaunch, we've received an enormous amount of positive feedback from members and clients for the website's sleek design that is uniquely Cornerstone."
Clare Bello, CEO of Cornerstone Barristers, said: "Cornerstone Barristers is delighted that the hard work, creativity, and attention to detail that our team and Square Eye put into this project have been acknowledged in the premier award recognition programme for web developers. Our new website now better reflects the strength and depth of Cornerstone as a leading public law, planning, property, housing and climate litigation set."