Does the UK's Human Rights Regime Need Reform?
16 Nov 2022, 6:00 pm to 7:00 pm
Speakers
Estelle Dehon KC, Shami Chakrabarti, Lord Faulks KC, Colm O'Cinneide
Venue
Institute for Government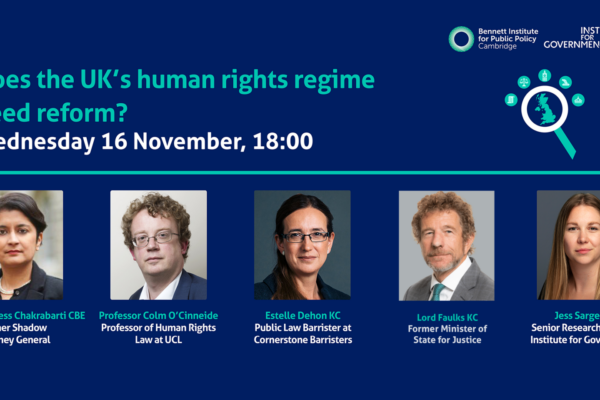 The protection of people's rights and liberties is a key part of the UK's constitution, dating all the way back to the twelfth century. In recent years, and with the Covid pandemic seeing unprecedented restrictions on people's everyday lives, the debate about what rights should be protected – and how – has been reignited.
The government has confirmed that it will bring back the British Bill of Rights, but it is likely to face challenges from politicians of all parties – some of whom think it goes too far, and others who think it does not far enough.
So does the government need to reform how people's rights are protected in the UK? What questions have been raised about the right to protest after the focus on how the public could show dissent during King Charles III's accession? And what role should international institutions play in upholding human rights?
This event forms part of the Institute for Government/Bennett Institute for Public Policy, University of Cambridge's review of the UK constitution.
To discuss this we will be joined by:
Rt Hon. Baroness Chakrabarti CBE, former Shadow Attorney General
Estelle Dehon KC, Public Law Barrister at Cornerstone Barristers
Lord Faulks KC, former Minister of State for Justice
Professor Colm O'Cinneide, Professor of Human Rights Law at UCL
This event will be chaired by Jess Sargeant, senior researcher at the Institute for Government.
The event will be live streamed and published on the IfG's website.
A Q&A will follow the panel with a chance to ask questions.
Programme

18:00    Introduction and welcome by Jess Sargeant, chair for the event

18:05    Panel discussion begins

18:35    Q&A

19:00    Event ends

About the Institute for Government

The Institute for Government is one of the UK's leading independent think tanks working to promote more effective government by focusing on how it is led, how decisions are made and how it is scrutinised. We are an independent charity, with cross party governance, and we work with all the main political parties at Westminster and with senior civil servants in Whitehall. We undertake research, provide high quality development opportunities for senior decision makers and our events provide fresh thinking on the issues that really matter to government. Our funding comes from the Gatsby Charitable Foundation, one of the Sainsbury Family Charitable Trusts.

About Cornerstone Barristers

Cornerstone Barristers is a leading public law set.  Our 62 barristers (including 13 King's Counsel), provide advice and representation in areas including administrative and public law, judicial review, planning & environment, housing, licensing, information law, property, court of protection, health & social care, commercial, and regulatory law. Our members are regularly involved in groundbreaking and high-profile cases across our areas of practice.  We also participate in a great deal of public interest litigation. Recent examples include: the proposed West Cumbria coalmine; the expansion of Stanstead airport; new nuclear power at Sizewell; numerous major housing schemes; the Post Office Scandal; litigation involving Uber; Miller v Prime Minister; challenges concerning housing allocation policies; and public space protection order litigation.

Chair's biography

Jess Sargeant is a senior researcher Jess is a senior researcher at the Institute for Government where she has worked on Brexit, devolution and the constitution. She is currently leading the IfG/Bennett Institute Review of the UK Constitution, which is examining the functioning of the UK constitution and making recommendations for reform.

Prior to joining the IfG, Jess worked as a Researcher in the House of Lords Library and as a Research Assistant at the Constitution Unit, University College London where she worked on the Independent Commission on Referendums.

Speaker biographies

Shami Chakrabarti (Baroness Chakrabarti CBE PC) is a human rights lawyer and campaigner, Labour  Peer and was Shadow Attorney General for England and Wales from September 2016 to April 2020. She was the Director of Liberty (the National Council for Civil Liberties) from 2003 to 2016 and its In House Counsel from 2001 to 2003. Prior to that she was at the bar and then a Home Office lawyer (1996-2001). She is the Chair of London's Gate Theatre.

She has written and broadcast widely and is the author of two books; "On Liberty" (2014) and "Of Women" (2017). Both are published by Penguin, Allen Lane who are due to publish her third book in 2024.

Estelle Dehon KC is a leading public law practitioner at Cornerstone Barristers. She has particular expertise in climate change litigation, including a forthcoming Supreme Court case concerning greenhouse gas emissions from fossil fuel development. Her human rights work includes advising the Equality and Human Rights Commission; advising The Citizens in their challenge to Government use of WhatsApp and Signal; representing NHS doctors who challenged the Guidance on Personal Protective Equipment for breaching the right to life and discriminating against BAME healthcare workers and representing an A-level student who challenged the fairness of algorithmic decision-making to determine the 2020 A-level results.

Lord Faulks KC served as Minister of State for Justice from January 2014 until July 2016. Lord Faulks is a non-affiliated member of the House of Lords.

He became a Queen's Counsel in 1996 and a Recorder in 2000. He is a member of the Chartered Institute of Arbitrators. He became a bencher in 2002. He was a Literary Agent, for Curtis Brown, from 1980–81. He was an Assistant Recorder, 1996–2000.

He was Chairman of the Professional Negligence Bar Association 2002–04 and Special Advisor to the Department for Constitutional Affairs on compensation culture, 2005–06. In 2010 he was created a life peer as Baron Faulks, of Donnington in the Royal County of Berkshire.

In January 2020 he became Chairman of the Independent Press Standards Organisation (IPSO).

Colm O'Cinneide is Professor of Constitutional and Human Rights Law at University College London (UCL). He has published extensively in the field of comparative constitutional, human rights and anti-discrimination law.

He has also acted as specialist legal adviser to the Joint Committee on Human Rights and the Women & Equalities Committee of the UK Parliament, and has also served on a range of expert bodies across Europe – including the 2005 Woolf Review into the functioning of the European Court of Human Rights.