Estelle Dehon KC and Ruchi Parekh, of Cornerstone Barristers, Both Recognised in ENDS Power List 2023
24 May 2023
Planning and Environment, Cornerstone Climate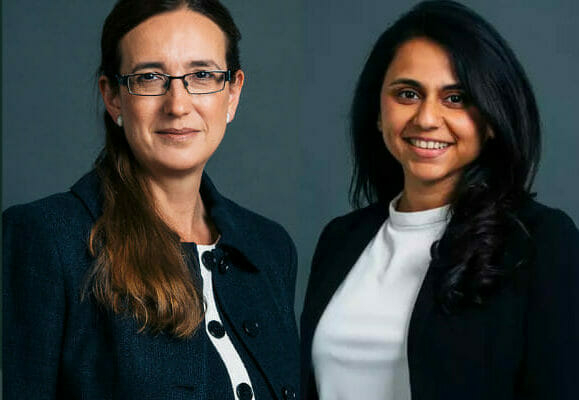 Cornerstone Barristers is proud to announce that Estelle Dehon KC and Ruchi Parekh have been included in the prestigious ENDS Power List 2023. This recognition highlights their exceptional contributions and influence in the environmental sector at both national and local levels.
The ENDS Power List, published annually by ENDS Report (and now in its second year), identifies and celebrates the most influential professionals who are driving positive change and shaping the future of the environment sector in the UK. Individuals gain recognition and a spot on this coveted list as a result of their peers, clients and competitors' nominations.
This year's recognition marks the second consecutive year that Estelle Dehon KC has been named in the ENDS Power List, further emphasising her exceptional track record and continued influence in environmental and climate change law. This year she is arguing the legal challenge to the internationally controversial new coal mine in Cumbria; and, with Ruchi, is representing a community group challenging the UK's aviation policy and representing Uplift in its challenge to new oil and gas licensing. Estelle is also advising a number of local authorities on how to address climate change in their planning policies, including policies on embodied carbon. She is co-Chair of the Bar Council's Climate Crisis Working Group, where she is leading work on the impact of the climate crisis on legal ethics and on guidance concerning climate conscious practice. In recognition of this work she won a Global Climate Leadership award at COP27.  Estelle is also a trustee of the UK Environmental Law Association, sitting on their Diversity and Inclusion Committee.
Ruchi Parekh has also been recognised in the ENDS Power List 2023. With her insightful understanding of environmental law and dedication to achieving sustainable outcomes, Ruchi has quickly made a significant impact and emerged as a key influencer within the environmental sector. She has particular expertise in energy infrastructure, having been involved with two offshore windfarm projects, the Sizewell C nuclear power station and Sunnica solar farm, which if consented will be the largest solar project in the country. Ruchi also works with community groups and environmental NGOs to help address the climate crisis. In the last year, she has advised on, and brought judicial reviews in respect of, issues ranging from offshore oil and gas projects in the North Sea and the Government's net zero strategy for the aviation industry to (at a more local level) the loss of a well-loved community park. Estelle and Ruchi will appear in June in the Supreme Court in the first case concerning downstream greenhouse gas emissions from fossil fuel development.
Estelle and Ruchi are featured on the list alongside a host of industry leaders such as: John Curtin, Interim Chief Executive of the Environment Agency; Natalie Prosser and Hatti Owens, respectively CEO of and Principal Lawyer at the Office for Environmental Protection ; David Hill, Director General at DEFRA; Claire Petricca-Riding, Head of Planning and Environmental at Irwin Mitchell, Lucy Morton, Global Environmental Practice leader at Mott Mcdonald; Laura Clarke, CEO of ClientEarth and Tessa Khan, Founder and Director of Uplift, who also instructs Estelle and Ruchi.