Net Zero Strategy 2.0: Into the Multiverse
11 Apr 2023
Planning and Environment, Cornerstone Climate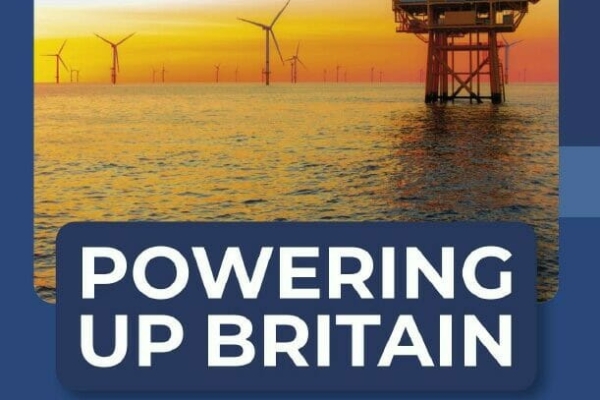 On 30 March, on "Green Day" or "Energy Security Day", the government published its revised strategy to deliver its Net Zero obligations. Rather than a single Net Zero Strategy, we stepped into the Multiverse, with the publication of 44 documents, running to more than 2,800 pages, under the moniker "Powering Up Britain". Over the past week, a further six documents have been published, taking the total 'Net Zero Strategy 2.0' suite of documents to the cusp of 3,000 pages.
There are 19 policy documents (including the revised draft energy National Policy Statements, which guide decision-making on major energy infrastructure projects); 11 government responses to earlier consultations; 10 new consultations; five funding competitions, two external reviews and two pieces of research.
The most important of the policy documents is the Carbon Budget Delivery Plan, which will be presented to Parliament pursuant to section 14 of the Climate Change Act 2008. It sets out 191 quantified measures across all sectors of the economy (table 5) and indicates that these policies would meet Carbon Budgets Four and Five, but would only provide 97% of the carbon savings required to meet the Sixth Carbon Budget (2033-2037), amounting to a shortfall of 32 million tonnes of CO2e over the budget period (see Table 1 in particular). The Government later added a spreadsheet version of the policies, which has been turned into a standalone version by Carbon Brief.
Table 6 of the plan lists another 143 "unquantified" policies and proposals, where the impact has not been calculated, in some cases because they are at an "early stage" or because they are very high level.
The plan explains that it expects its overall package of quantified and unquantified proposals and policies to adapt over time. It identifies delivery risks to the package of proposals and policies and asserts that the risks are manageable, with "robust mechanisms in place to monitor, manage and mitigate our delivery risks". The plan, therefore, asserts the package of proposals will make up the shortfall, such that the carbon budgets will be met.
Importantly, the plan also makes it clear that it delivers only 92% of the emissions cuts needed to meet the UK's 2030 nationally determined contribution under the Paris Agreement. This shortfall must be made up in only seven years, but the plan asserts: "​​We are confident the delivery of emissions savings by unquantified policies detailed in this package will largely close this gap and the government will bring forward further measures to ensure that the UK will meet its international commitments if required" (§29).
Some Headline Measures
The document which was promoted as the centrepiece of the new Net Zero Multiverse package is "Powering Up Britain", which includes an Overview of the government's plans as well as the UK's new Energy Security plan and Net Zero Growth Plan. A few headline measures are set out below, but the most eye-catching aspect of the suite of plans is the emphasis on Carbon Capture, Usage and Storage ("CCUS" or sometimes just "CCS") technology, which is currently mostly restricted to pilot projects. Eight projects have been chosen to proceed to the next stage of CCUS support negotiations, though, interestingly, not the controversial Drax proposed bioenergy and CCS project. The envisaged investment in CCUS dwarfs that proposed for other measures: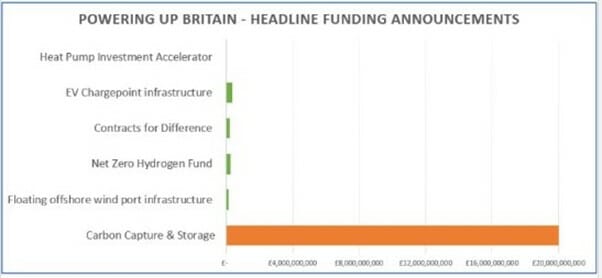 Source: Will Rivers at CPRE
By placing CCUS at the heart of its strategy, rather than ramping up investment in proven renewable technologies or simpler steps, like insulation and energy efficiency, the government is giving mixed messages on the transition away from fossil fuels. It is also out of step with expert advice – the Intergovernmental Panel on Climate Change warned on 20 March in its Synthesis Report that the implementation of CCUS faces "technological, economic, institutional, ecological, environmental and socio-cultural barriers" (pg 22).
Much in the new Multiverse relies on CCUS and other nascent technologies, such as direct air capture or bioenergy with carbon capture and storage, because by 2035, the new net zero pathway requires around 23 million tonnes of CO2e to be removed annually from the atmosphere.
Heat and Buildings
£30m help to boost manufacturing and supply of heat pumps and extending the Boiler Upgrade Scheme to 2028, although the net-term rollout of heat pumps is less ambitious than under the previous Net Zero Strategy;
Reforms to planning barriers for heat pumps;
Consultation on a clean heat mandate, which would contribute towards the government's existing "ambition" to phase out all new and replacement gas boilers "by 2035 at the latest";
Commitment to insulate about 300,000 of the poorest performing homes through the "Great British Insulation Scheme", which is a rebranding of the "ECO+" Energy Company Obligation. The Great British Insulation Scheme will extend support from the "low-income group" to a "general group" of households within Council Tax bands A-D (with an EPC rating of D-G), who will have to contribute 10% of the cost of the relevant energy efficiency measures;
No new general measures to address embodied carbon emissions in the construction sector, but an intention to consult in 2023 on "our approach to the measurement and reduction of embodied carbon in new buildings".
Transport
An aim to complete the review of the National Networks National Policy Statement during 2023;
£350m+ to increase the number of electric vehicle charging points;
Potential rowing-back on the ban on the sale of new petrol and diesel cars in 2030, which the Skidmore review recommended be delivered "swiftly" – instead, there is a second consultation being launched on a zero emission vehicle mandate;
Repetition of the previous commitment to introduce a mandate for at least 10% of UK jet fuel to be made from "sustainable sources" by 2030;
Consultation-stage cost-benefit analysis of the Sustainable Aviation Fuels mandate.
Land use
A land use framework for England is promised for 2023 and a "Net Zero and Nature Workforce Action Plan" is due to be published in the first half of next year;
Commitment in the Carbon Budget Delivery Plan to a yearly area of afforestation (trees planted in new areas) in the UK of 13,300 hectares in 2021, reducing to 10,300 in 2035 – this is a significantly lower figure than in the previous Net Zero Strategy;
Establishment of a new nature markets framework to scale up private investment in nature recovery and sustainable farming – nature markets are new, but are expected to grow rapidly;
£6.6m for a lowland peat research and development programme to look at how to grow ambition for lowland peatlands;
Publication in 2024 of the Natural England Peatland Restoration Plan which is set to provide a pathway to restore peatlands by 2050.
Energy
No removal of the de facto ban on onshore wind turbines in England;
Expansion of investment opportunities in offshore wind, including a competition for up to £160m to support floating offshore wind manufacturing;
No change to agricultural land classifications which would have amounted to an effective ban on new solar farms in England, and pledges to establish a joint government-industry solar taskforce and a solar "roadmap setting out a clear step by step deployment trajectory to achieve 70GW of solar by 2035";
Consultation on and an intention rapidly to implement planning reform through the new energy National Policy Statements;
Rejection of the recommendation that Ofgem be given a clear net zero objective as part of its statutory remit;
Publication of a nuclear roadmap later in 2023, and the rapid establishment of a new nuclear arms-length body, "Great British Nuclear", which will be based "in or around" Greater Manchester and will run a competition for small modular reactor (SMR) designs;
Confirmation of previously-announced £240m for green hydrogen projects.
Oil and Gas
An assertion of commitment to "a different future"; one that "breaks with the fossil fuels that powered our past two centuries";
BUT
Reconfirmation of a commitment to expanding fossil fuel production in the UK, including retaining the controversial objective of the regulator, the North Sea Transition Authority, to maximise offshore oil and gas production in UK waters;
Accelerating approval of new oil and gas projects first announced in 2022;
Increasing the UK's capacity to import liquified natural gas, which is already the second largest in Europe;
Rejection of the recommendation in the Net Zero Review to bring forward a ban on routine flaring of gas on oil and gas fields from 2030 to 2025, with the Government saying it already had "ambitious plans" to end routine flaring and venting by 2030.
The Net Zero Strategy judgment
Last year's judgment in R (Friends of the Earth Ltd) v Secretary of State for the Business, Energy and Industrial Strategy [2023]1 WLR 225, [2022] EWHC 1841 (Admin) ("the Net Zero Strategy judgment") held that the previous Net Zero Strategy was unlawful for failing to provide a sufficiently detailed account of how policies and proposals would achieve climate targets, meaning the Secretary of State could not judge the risks around the 95% of quantified policies and 5% of non-quantified proposals meeting those targets. Holgate J, however, rejected the need for a quantitative analysis that measures with quantifiable effects must enable 100% of the emissions reductions required by the carbon budgets to be met (§177).
The Carbon Budget Delivery Plan admits that only 40% of the savings needed to achieve the Sixth Carbon Budget are in policies which have already been implemented, adopted or planned, and that there is a 3% shortfall in meeting the Sixth Carbon Budget taking into account all quantified future policies or proposals. However, it provided much more policy-specific detail than was previously the case, including analysis of the risks that policies will not achieve their anticipated levels of emission reduction.
The various claimants in the Net Zero Strategy challenge have identified that quantified plans fall short of what is required and have announced they are scrutinising the documents.
Responses to the Strategy Documents
The Climate Change Committee ("CCC") will respond formally to the Net Zero Strategy documents in its 2023 Report to Parliament in June. It will be interesting to see the response to the assertion that Carbon Budgets 4 and 5 will be met, as that is not the CCC's current position. The CCC's Chief Executive, Chris Stark, gave an initial response to the suite of Strategy documents on 31 March, which identified that demand management is a casualty. The result is that the Surface Transport pathway is less ambitious than before, despite the fact that, since 2016, transport has made up the largest share of the UK's emissions: 26%, with cars and vans causing more than two-thirds of those emissions.
Conclusion
This summary just scratches the surface of the new Net Zero Multiverse. Other detailed summaries have been compiled, including by Carbon Brief, the Green Alliance and the ENDS Report. Standing back, the new Net Zero Multiverse appears to scale back on previous ambition in certain areas and resists opportunities to break decisively (or at all) from reliance on fossil fuel. However, there is an indication that electrification of heating and concomitant enhancement of the electricity grid is favoured and market signals for investment and finance in that area are strong.
Hopefully, there will soon be steps to address the problems of leaky homes, given that the CCC and others have consistently called for better insulation, which could dramatically reduce overall energy demand. The "Great British Insulation Scheme" is a start. But that scheme alone would take 190 years to upgrade the energy efficiency of the 19 million UK homes that need better insulation, in the face of a 2030 emissions reduction obligation which is significantly off course. Multiple schemes, and quicker action, are needed in relation to both existing and new buildings if the UK is to have any hope of addressing the 21% of greenhouse gas emissions caused by heat and buildings (the second-largest contributor to the UK's emissions).
Estelle Dehon KC and Ruchi Parekh are instructed in a number of matters concerning climate change and the Net Zero target, including advising local authorities on net zero planning policies; engaging with developers promoting net zero development; and High Court challenges to the Jet Zero Strategy and the recent round of oil and gas licensing.