Inside the launch of Cornerstone Climate
11 Jul 2023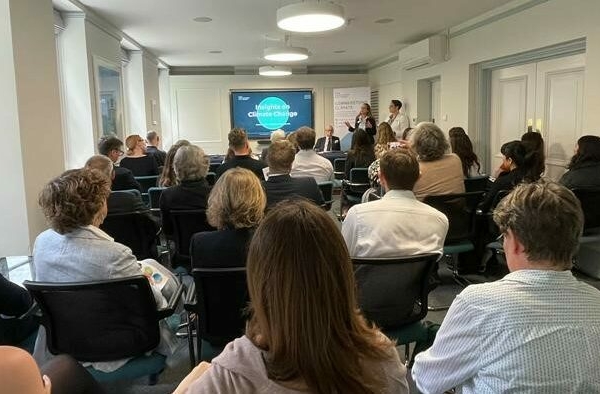 On 4th July 2023, Cornerstone Barristers hosted the launch event for Cornerstone Climate, our new centre of excellence for climate and biodiversity litigation and advice. Our date of launch, Independence Day, was not coincidental. We wanted to remind everyone that our independence also means taking charge of a sustainable future – one of the main reasons why we launched Cornerstone Climate.
How we got here
Cornerstone Climate was created in response to the climate and biodiversity crises with the aim of helping our clients navigate the rapidly changing and increasingly complex legal landscape, while bringing people together to accelerate take-up of climate and nature-positive opportunities.
Cornerstone is one of the leading sets at the bar dealing with climate change-related work, with a significant number of our barristers involved in the main climate cases, including net zero infrastructure work, and giving wide-ranging climate change related advice, including across the built environment and to all levels of local and national government. This gave rise to the dual aspect of Cornerstone Climate:
a cross-disciplinary practice group within Chambers, able to offer cross-cutting services for environment law and climate change advice and litigation, drawing on our award-winning planning, environment, property, commercial, regulatory and public law teams
a centre of excellent to leverage our legal skills to lead on climate and biodiversity upskilling and bring together our clients and those with whom we work to discuss and identify climate and nature-positive solutions.
We launched an online hub for Cornerstone Climate last month, which details our expertise, displays useful climate resources and where people can sign up for future Cornerstone Climate events.
Insights on Climate Change – our launch event
We welcomed professionals from across the legal, development, construction and academic sectors into our Chambers at Grey's Inn for a thoughtful discussion on climate change and the physical and policy infrastructure required to deliver net zero by 2050.
Our esteemed panel included Lord Deben, the chair of the Climate Change Committee. He is the longest serving Secretary of State for the Environment the UK has ever had (1993-97). His sixteen years of top-level ministerial experience also include Minister for Agriculture, Fisheries & Food, Minister for London, Employment Minister and Paymaster General in HM Treasury.
We were also joined by Dr Friedierike Otto, a senior lecturer in climate science at Imperial College London's Grantham Institute for Climate Change and the Environment. Previously she was director of the Environmental Change Institute at the University of Oxford. Friedericke was a lead author in the Intergovernmental Panel on Climate Change Sixth Assessment Report and the recent Synthesis Report. In 2021 she made TIME's list of the top 100 influential people in the world.
Appropriately, Cornerstone Climate founder Estelle Dehon KC chaired the panel. Estelle is a leading environmental silk specialising in climate change matters and in advising on how development can comply with net-zero carbon requirements. Last month (June) she appeared, with four other members of Cornerstone, in the Supreme Court in the first case concerning downstream greenhouse gas emissions from fossil fuel development. She won a Global Climate Leadership award at COP27.
The highlights from the panel discussion include:
Dr Otto's insights into how the Intergovernmental Panel on Climate Change produces its reports, including that the line-by-line approval by all Governments of the Summary for Policymakers results in each line being a scientifically-based and unanimously approved statement;
Lord Deben encouraging those in the built environment to accelerate the building of net zero and climate adapted homes – both of which are ways to make developments stand out and be attractive to decision-makers and to the market;
Dr Otto's explanation of the scientific work to be able to attribute specific weather events to climate change and her insight that there is very high certainty that climate change plays a role in heatwaves and fires, meaning that adapting and insulating UK houses is key to addressing climate change;
Lord Deben's observation that professionals can use their abilities to talk about the impacts of the climate and biodiversity crises – which he sees as two sides of the same coin and deeply interrelated – in a way that makes them recognisable and human: for example, "retrofit" of homes is not easily understandable, but "improving your home" is.
We were glad to have a packed room for the launch of Cornerstone Climate, demonstrating the strength of interest in a cross disciplinary climate hub. Other member of the climate team in attendance included: Michael Bedford KC, Gerard Forlin KC, Jonathan Clay, Harriet Townsend, Robert Williams, Nina Pindham, Emma Dring and Verity Bell.
Learn more about Cornerstone Climate here.